The North End Health Centre and Junction Doctors have been providing quality medical services to its registered patient population, rest homes and employers since 1982.
The North End Health Centre and Junction Doctor's  services include:
General Medical Services
Practice Nurse Services
Wellness and Lifestyle Services.
ACC Services and Sports Medicine
Immigration Medicals and Traveller Health
Pre and Post Employment Medicals/Testing
Drug and Alcohol  Screening 
Minor Surgery
We are a teaching practice affiliated to the Otago School of Medicine.
From July 2019 we are Oamaru's first Southern Health Care Home
FREE Cervical Screening Project*
FREE Cardiovascular (Heart) Health Check*
FREE Smoking Cessation Support
FREE Sexual Health Checks for under 22s**
FLU VACCINE AVAILABLE AT PRACTICE PLEASE PHONE FOR AN APPOINTMENT DRIVE IN FLU CLINICS 
Coronavirus (COVID-19) We are also OPEN for all your health needs just operating in a different way.
We are open to assist you with all your health needs.  We are offering telephone consults, video consults (where our doctors/nurses can phone you to manage your health needs).  WE ARE seeing patients, please dont hesitate to contact us if you need to be seen, FIRST we need to triage you so we can arrange your appointment in a safe environment. 
Appointments that have been arranged PLEASE PARK outside the main doors and wait in your car, your Dr/Nurse will come out and collect you.  At Level 2 when our waiting room is open we want to keep you and others safe so please keep a 1-metre distance from others, and during your consult with your Dr/Nurse.  Please dont bring the whole family with you to an appointment.  Yes we will be wearing protective clothing.  All areas of our practice are frequently cleaned for your protection and all consult rooms are cleaned after every consult.  
Online Portal AVAILALBE for
PHONE CONSULTS
VIDEO CONSULTS
SCRIPTS
Our phones will be operating normal business hours.  Please contact us for all your health needs. 
PLEASE EVERYONE CONTINUE TO keep social distancing and protect yourself and others from  COVID-19 by Washing Hands, Cough or Sneeze into your elbow, clean and disinfect often surfaces, stay home if you are unwell.
IF YOU BEGIN TO FEEL UNWELL  and have symptoms High Fever, Shortness of Breath, Cough
PLEASE DO NOT ENTER OUR PRACTICE OR PRESENT TO OAMARU HOSPITAL EMERGENCY DEPARTMENT PHONE THE PRACTICE FIRST 4370347 to manage your symptoms, and discuss COVID-19 testing options at our practice.  Please keep self-isolating it helps prevent further outbreak in our community thank you.  
THANK YOU TO EVERYONE FOR YOUR HELP TO PREVENT FURTHER OUTBREAK IN OUR COMMUNITY
Information around self-isolation or General Q&A about COVID-19 go to the Ministry Of Health  Website  www.health.govt.nz/covid-19 updated daily.
For all non-health related questions around COVID-19 please call 0800 Government (0800 779 997)
Any health concerns please do not hesitate to contact us, our team is here to assist you.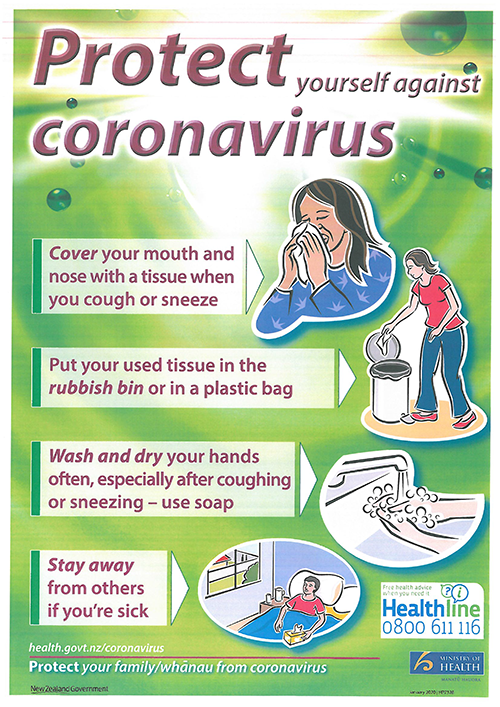 HAND SANTISER can be used IF YOU HAVE NO SOAP  OR WASHING HAND FACILITIES otherwise use soap and wash hands often.